Testimonials- Reviews & Photos/Customer Projects
We are just putting together this Page of Testimonials, Reviews & photos of Our Customers decor with our natural Forest products.
If you would like to be included in this page or display your Decor please send us an e-mail and we'll place it on this page.
For privacy purposes we will not publish your last name or any other information that would jeopardize your privacy.
We Love hearing back from our customers!! Photo's are a bonus!!
Thank you, & we look forward to hearing from you!
Absolutely stunning hanging tree. Perfect for my small Baltimore row home! Thanks a mil, and Happy Christmas! Alicia R
Hello!
My name is Adele and i bought this Aspen round slice from you and turned it into a wonderful piece of furniture! I used the fractal burning technique and filled the burns with glow in the dark resin. I hope I can purchase more wood from you and make more! I saw on your website some live edge slabs that are rectangles but have sold. Do you have anything around 27" X 17" in rectangles or round slices? Im open to a lot so ill keep watching your website for updates. Thank you so much!

Adele B
A. Our Balm of Gilead Log Slices installed by NY Metro Construction, Corp from Bayside NY. The Log Slice Bar is in the upcoming Raices Colombianas Restaurant Bar, in Jackson Heights, NY (1106 Log Slices)
#1
Rene,
"Wow...the wood is beautiful! I am so excited to use these for my son's wedding reception. I will send you a picture this weekend! 
Brenda"
"Rene,
"This is how everything turned out! Thank you for the perfect beginning to our centerpieces!
Sincerely,   
Brenda" Bozeman Montana
"Rene,
I think you need a testimonial page!! I would love to be on it! You have been so accommodating...express shipping, answering e-mails on a Sunday, and exceptional follow up!
Brenda"  Bozeman Montana   (Thank You Brenda!!   Rene)
#2.
Dear Spirit of the Woods,
Thank you so so much for supplying us with the perfect Log Slice! Look at this photo! Isn't it beautiful?
T.G San Diego, CA
#3.
Boston Conservatory at Berklee Production "Eugene Onegin"
With Spirit of the Woods, 14 ft Birch trees!!!
#4.

Very nice!! Great addition to my Farmhouse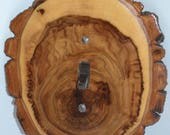 Log Slice, Light Switch, Receptacle, Rocker Plate Covers
#5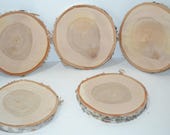 Birch Wood Slice with Bark 8" to 8 1/2" diameter x 1" thick. Set of Five
#6.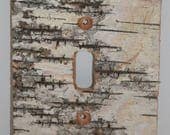 Birch Bark Switch Plate, Receptacle and Rocker Plate Covers-No Sticks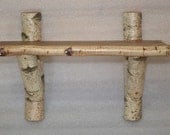 #7.

Delighted with this purchase. Great product and arrives in excellent condition. This a favorite shop! Thank you so much!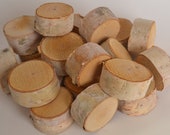 #8.

Shelf came exactly as pictured. Great workmanship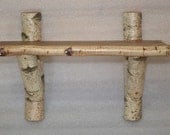 #9.

Log is beautiful. Just as described. Can hardly wait until next Yule to use it!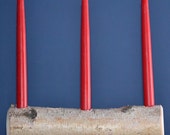 White Birch Yule Log/Candle Holder 3" to 4" d x 12" long
#10.

I bought these for my wedding and they are perfect for centerpieces. They are large slices and cut very evenly. Very pleased!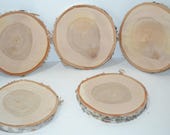 Birch Wood Slice with Bark 9" to 10" diameter x 1" thick. Set of Five
#11.